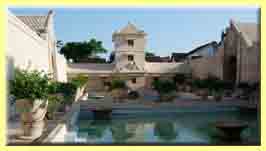 Taman Sari is in the west of the Kraton. Once Taman Sari with several pools, palaces and waterways was used from the sultan and his entourage for activities in the freetime and was built between 1758 and 1765. The place was damaged by Diponegoro´s Java War and an earthquake in 1865. Some old parts are used today for small houses and batik galleries but the main part is already restored. So its possible to see the pools with the tower in which the sultan sat to wath his wives swimming in the water and the floors in the underground. The legends tells the story about floors in the underground which the sultan used to go until the coast in the south on the Indian Ocean to meet the Quenn of the South who is living in the sea and married with every sultan of Yogyakarta.
In the heart of the city at the end of Jl. Malioboro is the huge palace of Yogya´s sultan. The Kraton is surrounded by walls with a length of 1km and presents itself like a small city within a city. In this small city of the Kraton are living 25000 people who have their own market, shops and batik factories. The main buildings, in which the Sultan still lives with his family, where built between 1755 and 1792 and get a touch of European style in the 1920s. The buildings are a one of the finest examples of Javanese architectures of palaces, luxurious halls, courtyards and pavilions. Large parts of the Kraton are used as a museum in which the visitors can see old furniture, weapons, arts, instruments and gifts from European monarchs. The royal family tree represents one of the most interesting rooms in which are still old pictures of the former sultans. The Kraton is opened every morning for visitors who can see sometimes some of the interesting traditional dances.
Jl. Malioboro is the axle of Yogya and ends in the south at the Kraton. During the day this street is the main place for shopping. It should be an experience for everybody in Yogya to visit the big mall in which are waiting several stores and supermarkets to present their full range of products. Outside the mall is the long and colored market with all types off souvenirs, batik and handicrafts. In the night the market in Jl. Malioboro is closed and makes space for small street restaurants (kaki lima) in which you can find every kind of the Indonesian food.
The bird market is next to Taman Sari. It's a colourful market with hundreds of birds like budgerigars, orioles, roosters and singing turtle doves. People can buy the interesting birds in ornamental cages. The people in Yogya like it to breed pigeons for training and not for eat. Next to the birds itself and their cages you can find a big range of bird food. Ants, lizards and other small animals are also on sale in the market.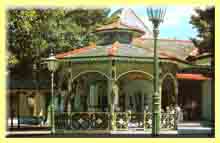 Taman Sari
Kraton
Jl. Malioboro
Bird Market